Posted By: shel
Photo posting tutorial -

07/24/07

2:57 am
>>These first line are edited by Morgan your Admin<<
Forum advertisers, Premium members, Vendors and sponsors can upload to BritBike Forum with their posts. Free members must link to other sites as described below.
----------------------------------------------
The question comes up often, "how do I post a photo?"
I asked this question myself when I started out on message boards. The answer I got was "upload to a host site and then copy and paste the image properties"
Does this help anyone? It sure didn't mean squat to me.
So I put together a step by step how to with captured screen shots of my computer so you could see what each step looks like.
beneath each step is a thumbnail, click the picture to enlarge and then click a second time to view full size.
1.Browse
You cannot upload a photo straight from your computer, first you have to host it to the web.
to do this you will need an account on an image hosting site.
I like
www.photobucket.com
it's free and it's the easiest I found so far.
Once you've opened your account you will need to upload photos from your computer.
To do this click the browse tab.
2.Locate album
This will bring up a window that will allow you to search your files for the photo you want to post.
At the top of this window is a drop down menu that says "look in" clicking on this will allow you to search in "My pictures" or "My documents" etc. to find the folder your photo is stored in. Once you've found this folder right click on it and click on "select" this will open the folder so yo can view the photos contained within.
3.Select photo
Once you find the picture you want to post you need to select it to upload.
place your pointer over the photo and right click on it.
A screen will pop up giving you various options.
click "select"
4.Upload
now your photo is ready to upload to the host site, at this point you can upload the photo by clicking the "upload" tab or continue to browse for more photos. you can upload several photos at one time by clicking the "browse" tab. you can upload several more by clicking on the "+add more" tab and then click "upload"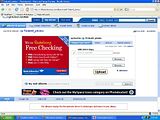 5.edit/resize
everyone hates the huge photo that make you scroll left to right to read the text in the thread. be a hero and resize.
above your photo is a list of options, click "edit"
This will bring up a new window with new options, click "resize" this will give you several sizes to choose from, I find the recommended message board size of 640x480 is just right.