It's official. 5 island motorcycle enthusiasts have placed their prized rides on the barge in transit to Portland Oregon. The street tracker I've been working on is among them. It carries Boomer's timing cover...thanks Bill.
Yesterday, Henry, the owner of the '67 Triumph street tracker came by to pick up some parts that just came in. (a LED headlight in a 5 3/4 inch Lucas shell) to be mounted in Portland before they leave, and a new set of petcocks.
For my efforts, Henry had his daughter pick up some Coco Puffs on Oahu. They're not available here and it's been ten years since I had them. I was watching Hawaii Five O the other day and they talked about them on that show and reminded me how ono these things are.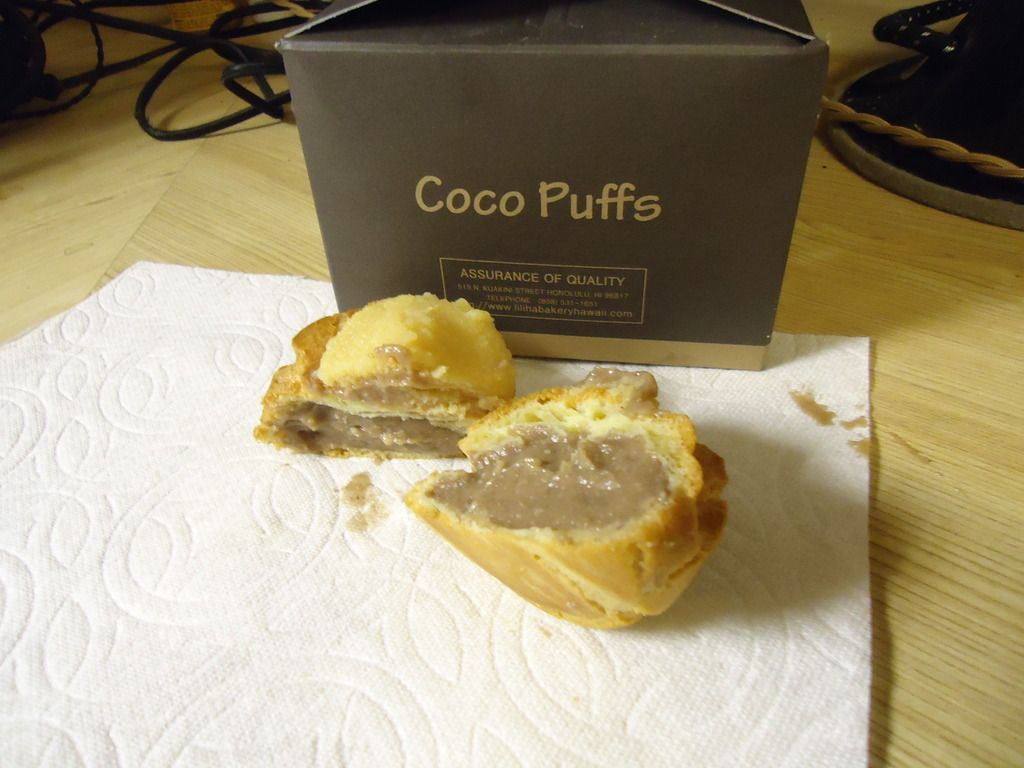 Now, I'm pre-diabetic and don't need the extra sugar, but, I'm going to break with my diet for these puppies.
They're basically cream puffs with a mousse or pudding inside and something on top.....whatever it is, it's very sweet.
One a day.....maybe two....
I'm putting these guys in touch with Boomer. No doubt, the amount of expertise he has is more that all 5 guys put together, plus he knows the area and can point them in the right direction for some fun, I am sure. The ride will end in Colorado....about 1500 miles total.
I know Kealii (the ringleader of this motley crew) is taking a Harley panhead, but the rest of the bikes, I don't know what they are. In the spirit of this adventure, I'm sure they are all vintage rides.
I've done my best to make the street tracker ready for a long trip, but in reality, this isn't the best choice for cross country riding....I geared it up....put a Pazon on it for reliability, we got rid of the off road tires and having the LED headlight on it should help keep the battery well charged. All I could fit on it was a 3 amp hour scooter battery, but it should be OK.
The Pazon transformed the performance of this bike dramatically. It makes more power everywhere compared with the ARD CDI unit that was on it, especially on the top end. It really flies now. I only rode it once as I couldn't keep my hand out of the throttle and was constantly outrunning the brakes....yeah, I scared myself a couple of times.
Henry is more conservative than I am, which is a good thing. He'll do fine I think. I just hope the bike holds up for the trip.
They're planning to run 300-350 miles a day which I think is way too much on old iron and older bodies. 200 is more like it. That way they'll have time to enjoy themselves.
Hopefully I'll get some reports on the way of this grand adventure.
Cheers,
Bill