ShoutChat Box
Comment Guidelines: Do post respectful and insightful comments. Don't flame, hate, spam.
Triumph bulletin board
Re: Greetings after a long time
OldOneKick
23 minutes ago
I hope you have better luck than I had with my Rucas ammeter. It died in two weeks, partly melted the plastic lens. Replacement fared no better.

Someone told me that a Model A Voltmeter will fit. Can anyone verify that? Model A's actually had ammeters, but since many have gone to an alternator, a voltmeter works better for them. There are, it is rumored, vintage looking voltmeters for Model A's. Many of these A's now are 12 v systems as well.

In our case, since many of us are running electronic ignition, which is voltage sensitive, a voltmeter is good.
6
158
Bsa bulletin board
Re: New Brake Shoes or New Linings?
Phil in Germany
24 minutes ago
CR,

I have let my original brake shoes fixed by bonding decent brake linings on them. So IME, bonding is the way to go.
I am not too fond of crappy aftermarket shoes that don't fit properly.
I had once been supplied with pattern brake shoes sold by MCA. Those were the most poor pattern parts ever.

If you were talking about the wheel bearing in the QD brake drum, my 69 Lightning has a 6204-2RS bearing made by FAG. Any other renowned bearing supplier can supply such bearing as well.

HTH.

Cheers!

Ph.
2
158
Members bike projects
Re: 1949/56 BSA "Alloy Clipper"
Stuart Kirk
25 minutes ago
Originally Posted by Stuart Kirk
Originally Posted by Magnetoman
Advice requested on removing the old sleeve.

In 'Modern Motorcycle Mechanics' Nicholson writes that the sleeve material used by Gold Stars "has a high rate of expansion" and that it only can be removed by sudden cooling after heating to 400 ℉. He suggests that shoving a sponge soaked with water into the hot sleeve "will allow it to be removed with some pressure," but only if it is done very quickly, before the sleeve heats up again. he suggests having a support ready to hold the assembly upside down and a driver of suitable diameter

Based on how problematic Nicholson makes it sound ("If the first removal attempt is not successful...") I'm inclined toward his Plan B method. But, hands up, those of you who successfully removed a Gold Star sleeve. How did you do it?
The Nicholson method is a good one. It is not as problematic as it sounds but you have to have everything ready. I have used it years ago on a DBD barrel and more recently on a B50 that had thrown a rod. Here are a few points to make the removal a success.
1. Because the liner is quite thin, machine the bottom of the cylinder to remove the chamfer as much as is possible. This provides a wider, square edge to press against with less tendency to expand and jam in the muff.
2. De-burr the OD of the machined end.
3. Arrange a block of wood with a hole bored through it, or a length of pipe big and long enough for the top flange of the liner to pass through it. This will support the muff by head gasket surface.
4. Make the "driver of suitable diameter" as he describes. I have one made from a Harley piston that measures right at 89mm, but do your own measurements of course.
5. Use briny ice water to soak the fat, sausage shaped sponge. The sponge needs to be a good fit in the liner contacting most of it so it doesn't just drop on through..
6. As he suggests, work quickly. Have everything waiting right next to the oven for when you pull the barrel out of the oven. (Don't be running from kitchen to workshop with a cooling off cylinder.) Then, plop the barrel on the support (you're wearing gloves), jam the ice water sponge down it, place the driver in the liner and give it a thump with the 5 pound sledge you have laid close at hand. A short piece of 2x2 is helpful for when the driver follows the liner down inside the muff.
The liner should move easily. If not, try the whole procedure again.
I have dug back into the depths of this thread and found something of interest. And for what it's worth, I second, third, fourth or whatever using aluminum for your driver. The driver in the photo is a Harley piston machined to work as a Bsa B34 liner driver. The previously mentioned B50 liner is in the background. The spigot had been shattered by a thrown rod and had to be machined square to safely remove it. That's why it's so short, and as some might be astutely noticing, I don't like to throw things out either. I mean, that rusty old liner might be useful someday.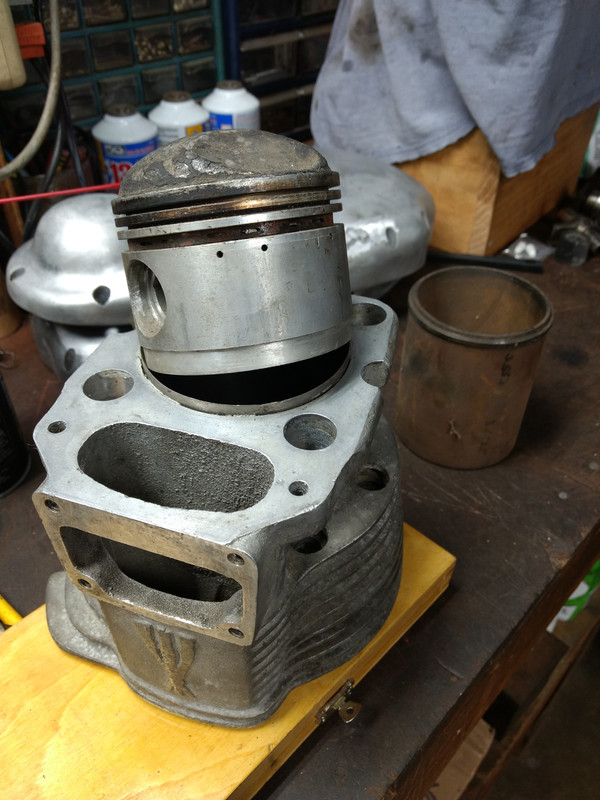 739
30,087
Bsa bulletin board
Re: Auto-change A65
Peter Gascoigne
41 minutes ago
Mark,
I didn't say, but the shift is upside down, 1 up 3 down. I did replace the camplate with the correct new one when I re-built the engine, though I did have a bit of a wrestle with the eccentrically mounted return spring leon mentions. I got it set and it's been ok up till now, and I forgot to mention it does very very, occasionally jump out of third. It,s amazing how smooth the change is, just like a good autobox!
6
107
Triumph bulletin board
Re: Triumph pre units
Dibnah
1 hour ago
This forum needs a flamepit, where moderation is restricted to the legal requirements only.

Bill, please use the same or similar username wherever you end up, or at least provide clues.

Cars (what a nonsense)
19
688
Bsa bulletin board
Re: CORRECT 65 CLUBMAN PIPES
Allan G
1 hour ago
No disrespect Vic, I have (somewhere at my dads) an armours pipe which I refused to use because the shape was so poor and still have an original clubmans Siamese.

The stock lightning Siamese is shorter than the clubmans type possibly because the lightning one had the longer silencer, the clubmans longer type has a kick up. Around the foot rest area, probably about 5° so not much.

The armours pipes come out from the head too far, they then have a slight kick at the bottom rail to bring it back into line, the original pipes (or any type) doesn't do thIs, they stay slender to the bike.

Hardest part is finding some decent silencers, I did have one but the company went bust.

I can see me making some more downpipes.
6
144
Triumph bulletin board
Airbox fixings waiting to migrate into the engine
Dibnah
1 hour ago
Finally had a look inside the standard(ish) airbox on my 1972 TR6, one crosshead screw that clamps the two halves of the box together was hanging on by a thread, the other crosshead screw was laying inside the airbox
Also, one of the bolts that fixes the box to the frame was hanging loose. All refitted using low strength threadlock.
Wire mesh K&N type panel filters were clean, but not oiled.
0
23
Bsa bulletin board
Re: Lighting no start
Allan G
1 hour ago
One thing I've found with the shorter bell mouth is they are more susceptible to faltering when it rains, never had this issue with the long velocity stacks... only fun with tuning.
112
3,834
The triple forum
Re: AM or HDA?
DMadigan
2 hours ago
Here is a picture of the middle exhaust ports:
The AM head has a big restriction. However, the H.D.A. port can be improved also.
Not much difference between the AM and H.D.A. with the stock 3:2 manifold
Just changing the dreadful manifold to a 1-1/2" pipe increases the flow on the H.D.A. by 8.5 CFM and 7.2 CFM on the AM @ 0.4" lift or 18% and 15.6%.
Porting can increase it by 31%.
You can also help a stock motor by replacing the exhaust stubs with ones that have a squared off end rather than the taper. It reduces the back flow into the chamber from the return pressure wave.
The AM and H.D.A. logos are located here on the pre-T160 castings:
11
237
Bsa bulletin board
Re: A65 problem with rings sealing
Adam M.
7 hours ago
Hi Tom, you are lucky to have this cover. Gasket surface on mine is reduced to perhaps 2.5 mm near the oil dumping bolt, oil channel is bypassing gasket on oil level bolt altogether. I will have to use some alu, copper or fibre washers under those screws.
61
1,655
Bsa bulletin board
Re: Over shifting into 2nd
Allan G
7 hours ago
The box was shimmed properly some years ago, and until now not given a problem. although for a long time it didn't have th shim on the drive side but never caused an issue, I just corrected it before it became an issue.

I'll get the box apart this week so will be able to report back and know for certain. Thankyou for the input, certainly given some good food for thought.
10
201
The Rod and Tappet
Re: Not doing things by halves
koncretekid
9 hours ago
Tool rental places usually have a magnetic base portable drill press used for drilling holes in steel or iron on the jobsite and should guarantee drilling square to the block. Unfortunately they are usually quite large and may not fit.
Tom

If I have to keep finding crosswalks, traffic lights, and buses to prove I'm not a robot, I may have to get a computer with a larger screen!
21
784
The Rod and Tappet
Re: WRGMG
gavin eisler
10 hours ago
A conventional IC genny unit is max 30% efficient fuel to electricity, some of the lost 70% can be recovered if the jacket water is used for space heating, probably not applicable in Texas.
162
3,918
British motorcycles in general
Re: What did you do to your bike today --join in
Mark Z
18 hours ago
Starting to get the Beeza ready for an outing next Saturday to the 1/4-mile flattrack races in Belden. If anyone in the area (basically Central New York) is interested in these races, all the pertinent information can be found at
www.squaredealriders.com.
I got the GPS speedometer working quite well, and I put new rubber on the rear. The old tire was squared off and making the bike squirrely in the turns. Now I can lean into turns with confidence again. I also adjusted the shocks to the least amount of spring preload. They were set at the highest level before, and it never occurred to me to change them, but the ride is much nicer now.
One problem I've been having, the right carburetor overflows whenever I leave the tap open when the engine is not running. It's not a case of dirty fuel or a dirty shutoff needle or seat; I've had the carb apart for a thorough cleaning three or four times. I ordered rebuild kits for the carbs, which include shutoff needles and seats, but I got the wrong kits. As it turns out, there are two types of VM carburetors, the zinc flange-mount type, and the aluminum spigot-mount type (which is what I have). But they're both called VMs! Anyway, the parts don't fit so I need to order in the right kits. I did eliminate a cracked float as the problem today, by swapping float bowls. (Both carbs are the same, that is, not "handed".) The problem stayed on the same side. But I've had this problem for a long time now, and it doesn't present a problem when the engine is running, so it will not keep me from the races next weekend.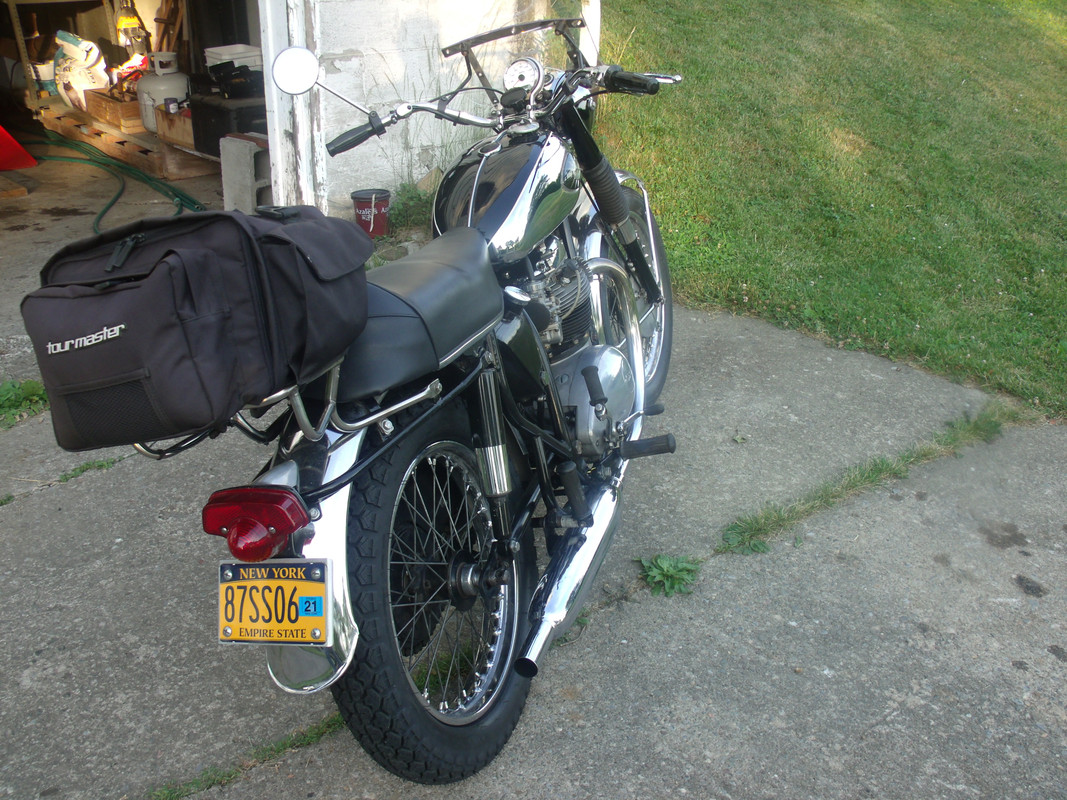 742
268,318
| | | | | | | | |
| --- | --- | --- | --- | --- | --- | --- | --- |
| Page 1 of 20 | 1 | 2 | 3 | … | 19 | 20 | |